Adventurer hopes to sail whale-shaped boat to New York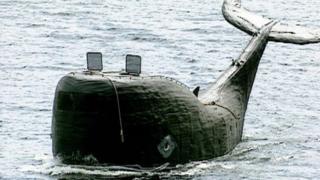 A veteran adventurer hopes to make an attempt to steer a whale-shaped boat from Scotland to the US.
Tom McClean, who has previously set records for solo rowing and yachting journeys across the Atlantic, has spent years working on the craft called Moby.
The 73-year-old former SAS soldier told BBC Radio Scotland that he plans to sail it to the Azores next year before making a bid for New York.
Moby is kept on the shores of Loch Nevis near Fort William.
Mr McClean, who lives close to the loch, has spent about 20 years working on the 65ft-long (19m), 62-tonne craft.
Several years ago he took it out and sea and also on to Loch Ness.
He told BBC Radio Scotland the boat requires a refit before heading out into the Atlantic.
Mr McClean said: "The boat is in quite good order, but it needs maybe new engines and more controls.
"I'll be fitting it out this year and next year head for the Azores and then head for New York."