Large avalanche recorded in Glen Coe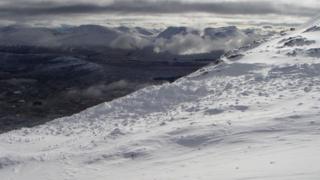 An avalanche of a scale large enough to bury a small car has been recorded in Glen Coe.
The avalanche debris was spotted from the summit of Meall a' Bhuiridh in the White Corries and estimated to be 8ft (2.5m) high at its highest point.
The Sportscotland Avalanche Information Service (SAIS) said the debris, made up of large blocks of snow, was deep enough to "lose a Mini in".
SAIS thought the slide may have happened on Sunday or Monday.
The risk of avalanches occurring in the six areas monitored by the service - Lochaber, Glen Coe, Northern Cairngorms, Southern Cairngorms, Creag Meagaidh and Torridon - has been assessed as "considerable".
SAIS, which provides information on the potential risk of the slides and how to interpret avalanche forecasts, has recorded 111 avalanches since starting its latest forecasting season in December.
Ninety of these recorded events happened in the last month. There were 237 detected last season.
Avalanches are measured on an international scale of one to five. Size five slides are big enough to destroy a village or large forest.
Last February, a snow slide at Coire Ardair near Creag Meagaidh was also said to be of a scale big enough to bury a car.
SAIS described it as "a full depth size three event".
The following month, a large full depth avalanche filled with mud, rocks and large blocks of snow was found on Glas Tulaichean in the Southern Cairngorms.
There are various causes of avalanches, including the collapse of large wind-blown ledges of snow known as cornices.