Anger at cuts to Blas Festival funding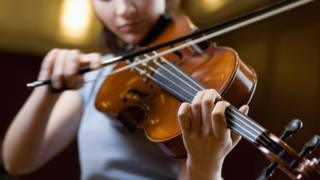 The long-running Blas Festival which celebrates Highland and Gaelic culture faces an 81% cut in its funding, according to the event's organisers.
Highland Council, the festival's biggest backer, has proposed cutting funding to Blas for the next three years to help it save £37.9m.
The organisers, Fèisean nan Gàidheal, said the move would mean an end to most of the funding it relies on.
The council said it did not want to make cuts but had to make savings.
Blas is held annually at venues in the Highlands and Argyll and includes performances of songs and traditional music.
'Regrettable situation'
Fèisean nan Gàidheal's chief executive Arthur Cormack said Blas was being treated unfairly and other cultural events were not facing similar reductions in support.
He said: "Cuts of some kind seem inevitable and we would expect to take our share of them, as we have done in the past.
"However, the recommendation to cut the funding for the Blas Festival exclusively is inequitable.
"It is regrettable that this situation has forced us to be pitted against other cultural events and organisations worthy of support, but we feel that any cuts should be made on the basis of a proper assessment of their impact and, above all, fairness across the board."
Highland Council's budget leader Bill Fernie said the local authority had to deal with "unprecedented challenges" in setting a balanced budget.
'Pragmatic decisions'
He said: "We have listened to public views and consulted with our community planning partners and we have taken these views into account when looking at where we can make the savings.
"We have sought to protect our road infrastructure and winter maintenance as well as education and adult social care and statutory services, whilst looking at savings across a whole range of council services, which includes huge staff reductions.
"We can't protect everything and unpleasant but necessary and pragmatic decisions will have to be made on 25 February. No one wants to cuts services or reduce funding, but we have no option but to deliver a balanced budget."