Stunt rider Danny MacAskill's mother to tackle rally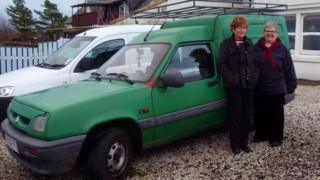 Stunt rider Danny MacAskill's mother is to take part in the 10,000-mile (16,093 km) Mongol Rally in an old van.
Anne MacAskill, 67, from Skye, and her friend Kay Simpson, 69, will tackle the challenge later this year to raise money for charity.
The venture will be carried out in a 22-year-old Renault Express in memory of Ms Simpson's late partner Duncan Strachan.
The women will travel across Europe and Asia, starting in July.
Rally entrants must finish the event by 12 September.
Danny MacAskill has gained international acclaim and recognition for risky feats performed on a bike, including stunts on Skye's Cuillin Ridge and riding along rooftops in Gran Canaria.
Videos of his stunts attract millions of internet hits. The short films include one shot at his family home on Skye that features his mother.
On her forthcoming driving challenge, Mrs MacAskill said: "We have an agreement. I don't worry about him and he does not worry about me.
"But he is delighted that I'm doing this. I've never done anything like it before."