Skye superfast broadband project launched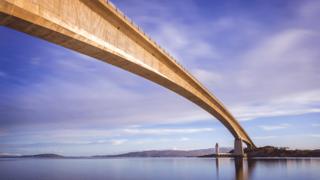 A community-led project that aims to connect more than 2,000 homes to superfast broadband has been launched in Skye.
North Skye Broadband has secured investment from Highlands and Islands Enterprise (HIE).
The project's leaders hope to award a contract for the laying of the infrastructure needed later this year.
The first properties in the north of the island could be connected to the broadband services next year.
Geoff Semler, chairman of North Skye Broadband, said it was the most important infrastructure project since the Skye Bridge opened in 1995.
He said: "Our network will not just connect North Skye to the mainland, it will connect us properly to the rest of the world - benefitting everyone and everything, from healthcare to small business development, long into the future."
The project is based on other rural broadband schemes, including Broadband 4 the Rural North in Lancashire.