Stromeferry Bypass plans revised to reduce costs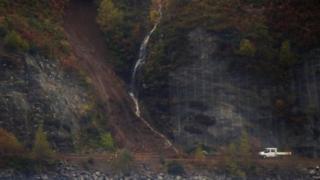 Some planned improvements to the roads network in Wester Ross could be dropped to increase the chances of securing funding for a new Stromeferry Bypass.
Built in the 1960s, the bypass has had a problem with landslides and was affected by 10 significant rock falls between 1990 and 2012.
Highland Council had hoped to secure government funding to cover the cost of a new road and other improvements.
But Transport Scotland has asked for the funding bid to be targeted.
The local authority has now produced a revised set of plans. They include dropping a proposed bypass for the village of Lochcarron.
The council said the changes would reduce the cost of the Stromeferry Bypass project.
Highland councillors will be asked to approve the revised plans.
The Stromeferry Bypass is on the A890 which helps to connect Lochcarron to Plockton, and its high school, and eventually with Kyle, on the opposite side of Loch Carron.
The road runs across the top of the sea loch to link up with the A896, the main road to Lochcarron.
When the bypass is closed, drivers face having to take a 140-mile (225km) diversion, instead of the usual 18 miles (29km) from Lochcarron to Plockton.
After a landslide in December 2011 the bypass was shut for four months.