Sinking fishing boat Frem towed to Scrabster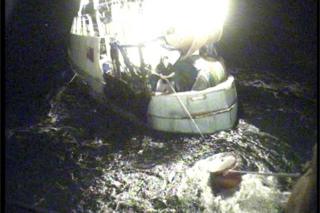 A fishing boat with two crew onboard has been towed to safety after starting to sink in the Pentland Firth.
The Frem started taking on water off Dunnet Head at about 04:00.
Thurso lifeboat and a coastguard helicopter from Sumburgh got pumps aboard the vessel to stem the flow of water.
The crew of the fishing boat deployed their life raft in case they had to abandon ship, which the RNLI said was a possibility at one stage.
The winchman on the coastguard helicopter was lowered to the Frem to offer assistance to its crew.
The fishing boat has been towed to Scrabster Harbour in Caithness.