Canadian mountain film festival touring Scotland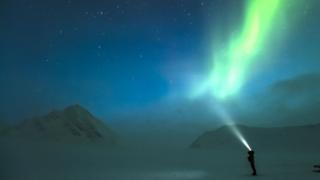 Canada's Banff Mountain Film Festival is touring the UK and Ireland.
The festival shows short films about outdoor pursuits including rock climbing, skiing and cycling.
In Scotland, films will be shown in Glasgow on 16 February, Inverness on 18-19 February and Pitlochry on 20 February.
This marks the seventh time the Banff Mountain Film Festival has been brought to the UK and Ireland as part of a world tour.
The films include Eclipse which follows photographer Reuben Krabbe's efforts to capture images of skier in front of 2015's solar eclipse in Svalbard in the Arctic.
Operation Moffat, another of the films, is about the life of Britain's first female mountain guide, Gwen Moffat, who earned a living from climbing in the late 1940s and the 1950s.
It sees writer Claire Carter and filmmaker Jen Randall scramble, swim and barefoot climb through landscapes closely associated with the guide.
Another, called Unbranded, records four young Texas horsemen's plan to adopt, train and ride a string of wild horses 3,000 miles (48,280 km) from the Mexican border to Canada through some of the American West's wildest terrain.
Ahead of the upcoming Scottish dates, the festival visited Edinburgh in January.