Bigger role for Karen Gillan in Guardians of the Galaxy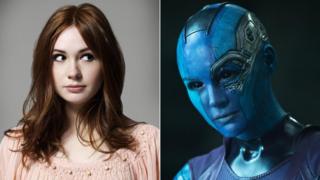 Inverness actress Karen Gillan has a bigger role in the Marvel movie Guardians of the Galaxy, Volume Two, the film's director has said.
Gillan played space pirate Nebula in 2014's Guardians of the Galaxy and will reprise the role in the sequel due to be released in cinemas next year.
James Gunn revealed she has a bigger presence in a question and answer session he held with fans on Facebook.
Guardians also stars Chris Pratt, Zoe Saldana and Dave Bautista.
The sequel, which is being shot in Atlanta in the US, is a follow up to one of the most successful Marvel movies.
In the Q and A, Gunn said he was "excited to have Karen Gillan around more" on set.
He added: "Karen is here in Atlanta now I believe, unless she went home for a few days."
Gillan's other film and TV roles have included Amy Pond in Doctor Who and Kaylie Russell in the horror film Oculus.