Nut shells found on Skye 'more than 8,000-years-old'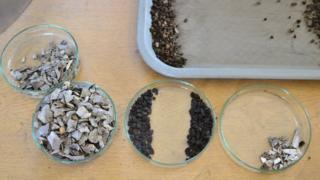 The remains of hazelnuts found during an archaeological dig in Skye are more than 8,000-years-old, laboratory tests have confirmed.
Hazelnuts were a favourite snack of Mesolithic hunter-gatherers, according to archaeologists at the University of the Highlands and Islands (UHI).
The shells were discovered during an excavation above Staffin Bay last year.
UHI carried out the dig along with Staffin Community Trust, school children and volunteers.
Archaeologist Dan Lee said: "We are really pleased to have such convincing Mesolithic dates from the site.
"This hints at the huge potential for additional excavations in the area and presents a great opportunity to understand life in the Staffin area during this period."
Trust director Dugald Ross described the tests results as a "huge boost" to efforts to better understand human activity on the island thousands of years ago.