Bahamas message in a bottle found in Harris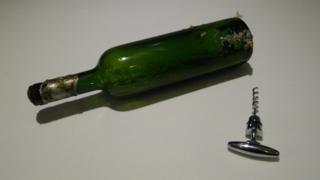 A message in a bottle dropped from a cruise ship in the Bahamas two years ago has been found on a beach in the Western Isles.
Miami couple Bruce Roden and Monica Prieto threw it into the sea in 2014.
The bottle and its message were found by Rosie Rayment, a medical student from Cumbria working in the Hebrides, at Seilbost beach in Harris this month.
The bottle was thought to have travelled more than 6,500 miles (10,460 km).
Ms Rayment, who was at the beach learning to surf, was able to contact the US couple from the messages they wrote.
The bottle reached the Western Isles on the ocean currents the Gulf Stream and North Atlantic Drift, according to Lewis-based University of the Highlands and Islands meteorologist Dr Edward Graham.
In August last year, a hotelier on the Isles of Scilly also found a washed-up message in a bottle that had travelled from the Bahamas.
The bottle reached a beach on St Mary's where it was spotted among rocks by Francesca McCarthy.
Inside was a message from a couple from the US who had dropped the bottle in the sea to mark a second honeymoon.