Posthumous award for WW2 captain from Lewis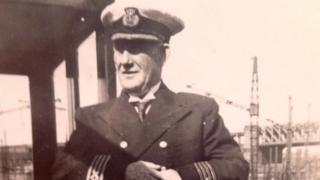 A sailor has been honoured for his bravery in World War Two, more than 70 years after he died.
Capt Murdo Macleod, who was from Barvas in Lewis, was a commodore of a convoy of ships supplying munitions and other provisions to Russia.
His convoy, codenamed PQ18, came under attack several times after leaving Loch Ewe in the Highlands in February 1942.
He has been posthumously awarded the Arctic Star after a number of attempts by his family to have it awarded.
Capt Macleod died at sea in 1944.
His family was told that records of his actions could not been found so the Arctic Star could not be given.
'Great honour'
Following a letter from Western Isles SNP MP Angus MacNeil to the Ministry of Defence, Capt Macleod has now been honoured with the medal which is awarded to those who served on the Arctic Convoys.
Mr MacNeil said: "It was a great honour to help to secure this medal for the Macleod family which marks the service of Capt Murdo Macleod on the Arctic Convoys in 1942, for which he also received the posthumous award of Distinguished Service Cross.
"He was a dedicated and courageous mariner who had a long distinguished career in the Merchant Navy. The marking of his service in the Arctic Convoys by the award of this medal means a lot to his family and I was delighted to be able to assist them."
Margaret Macleod, from Carloway, Lewis, who is Capt Macleod's niece, received the medal on his behalf.
She said: "I remember my Uncle Murdo very well and words cannot express how proud I am about receiving this award on his behalf."
Fiona Whiteford, the sailor's grand-niece, who contacted Mr MacNeil about the family's quest to receive the Arctic Star, said: "We are delighted to receive this medal on behalf of my Great Uncle Murdo who was a very brave man and we would like to thank Angus and his staff for all their help with this matter."