Bad weather forces two groups to spend night in hills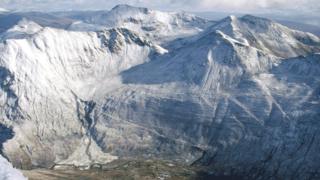 Two separate groups of walkers and climbers were forced to spend a night in the hills after the weather deteriorated during their trips.
Three experienced winter walkers sought shelter rather than risk continuing on in bad weather and while there was a risk of avalanches in the Mamores.
Their ordeal was overnight Saturday into Sunday.
Two members of London Climbing Club spent Sunday night on the summit of Cairngorm Plateau.
They were helped down off the mountain by Cairngorm Mountain Rescue Team and were uninjured.
In the Mamores incident, the three hillwalkers got into difficulty while tackling An Garbhanach on Saturday.
Lochaber Mountain Rescue Team, with assistance from Glencoe MRT, helped to get the three airlifted to safety on Sunday.
A coastguard helicopter was involved in the rescue.
The three hillwalkers were cold and wet but uninjured.