Eight cars caught up in two crashes on A9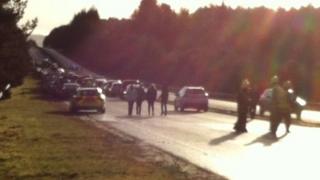 Eights cars were caught up in two crashes that happened within minutes of each other on the same stretch of the A9 in the Highlands.
A woman was injured when six cars collided before 09:00 near the road's Munlochy junction, north of Inverness.
Two cars were involved in the second incident near the scene of the first accident. One of the cars caught fire but no-one was hurt.
The accidents shut the southbound carriageway for several hours.
Fire crews from Dingwall, Beauly and Inverness, along with ambulance crews and police, were sent to the scenes of the accidents.
Two women trapped in the wreckage of two cars were freed by firefighters.
A spokesman for the Scottish Fire and Rescue Service said: "Thankfully no-one involved in the incidents was seriously injured."
Earlier, at about 07:20, firefighters from Inverness and Nairn were called to a collision between a car and a van on the A96 at Delnies, near Nairn.
A man was hurt in the crash. The road was closed after the incident, but has now reopened.