Views sought on dual carriageway from Inverness to Nairn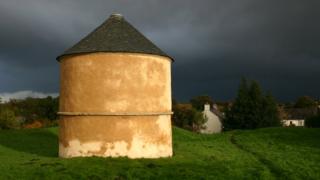 People living in and around Inverness and Nairn have been asked for their views on the route of planned new dual carriageway between the city and town.
Transport Scotland said the proposals involve 18 miles (28.9km) of off-road provision for pedestrians, cyclists and horse riders to share.
Keith Brown, Cabinet Secretary for Infrastructure, Investment and Cities, described the project as "ambitious".
The road scheme includes a bypass for Nairn.
As part of the project, archaeologists are to examine sites of historical importance on and near to the planned dual carriageway.
The locations include the site of 1645's Battle of Auldearn, near Nairn.
The clash marked a major victory for Scottish Royalists over a Covenanter army, and local legend tells of some of the casualties being buried nearby in a place still known today as Dead Man's Wood.
A dovecot now stands at the site of the battle.
Transport Scotland has also published the planned route of new dual carriageway between the Slochd and Dalraddy in the Highlands.
The stretch forms part of the Scottish government's wider £3bn upgrade of the A9 between Inverness and Perth.