Right Reverend Ian Murray dies after short illness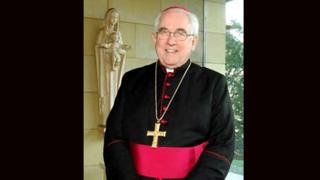 The Right Reverend Ian Murray, Bishop Emeritus of Argyll and the Isles, has died aged 83.
He died in Edinburgh on 22 January after a short illness, the Roman Catholic Diocese of Argyll and the Isles said.
Archbishop Philip Tartaglia of Glasgow, President of the Bishops' Conference of Scotland, paid tribute to him.
He said Bishop Murray had approached everything in his life with "humanity, faith and humour".
The archbishop said: "He will be sorely missed. May God rest his generous soul."
Bishop Murray was born in Lennoxtown, Dunbartonshire, in 1932.
He was the eldest of four children and began his education at St Machan's Primary School in Lennoxtown before moving onto St Ninian's High School in Kirkintilloch in 1944.
Two years later he began life as a seminarian at St Mary's College at Blairs in Aberdeenshire.