Annual sled dog rally held in Aviemore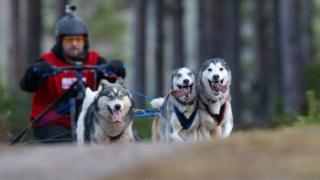 More than 1,000 sled dogs and 200 mushers have been taking part in the 33rd Aviemore Sled Dog Rally.
The event was organised by the Siberian Husky Club of Great Britain.
The annual rally is run on forest trails around the beautiful Loch Morlich, in the shadow of the Cairngorms.
It features teams of between two and eight sled dogs pulling sleds at up to 25 miles an hour over a challenging, four-mile track.
Among the dogs taking part were Siberian huskies, Alaskan Malamutes, Samoyeds, Greenland Dogs and Canadian Eskimo Dogs.
Here are a selection of pictures from the event: