RAF Odiham Chinook crews train in snowy Cairngorms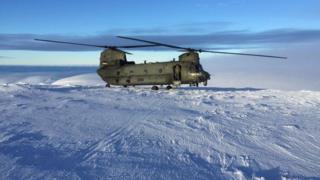 A detachment of three Chinook helicopters has been operating in freezing cold and snow in the Cairngorms.
The helicopters and crews from RAF Odiham in Hampshire have been flying from RAF Lossiemouth for essential winter training, the RAF said.
The detachment from 27 Sqn involves 70 ground and air personnel.
The training, which has also seen the helicopters flying over Inverness and Loch Ness, runs until 29 January.
Sqn Ldr Justin Shaw said: "Operating in Scotland provides a unique and invaluable experience for my crews.
"Demanding terrain and changeable weather, coupled with the experience of operating from an unfamiliar airfield, will allow the detachment personnel to fully develop their aviation skills in the challenging environment of northern Scotland."
The Chinooks will take part in several short training exercises, including with 39 Engineer Regiment on its base at Kinloss Barracks, also in Moray, and at the Tain Weapon Range in Easter Ross.