Climber's mum: When you see the snow buntings, remember him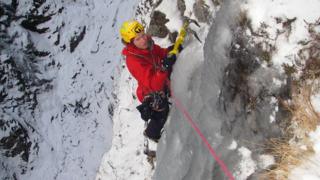 The mother of climber Simon Davidson who died in a climbing accident in Glen Coe has told of the comfort his friends' tributes have given her.
Experienced climber Mr Davidson, 34, and his friend Joe Smith, a member of Glencoe Mountain Rescue Team, died after falling on Saturday.
Their friends have spoken of the men's skill in Scotland's mountains.
Esther Davidson said her son died doing what he loved and had valued the friendship of those who knew him.
She said: "Thank you to all Simon's friends and family - your tributes to him are such a comfort to me at this time when I feel heartbroken at his loss.
"Thank you too for all the lovely photos and video you have posted. They have given me a treasured insight into that part of his life where I could not follow and only got brief snatches of from him.
"I know he loved the mountains but he also really valued your friendship and all you shared together in the mountains. As many of you have said, he died doing what he loved.
"Carry on climbing and carry his memory to the highest places."
Ms Davidson said her son had a deep interest in mountain wildlife and while taking her on a recent trip up Ben Nevis pointed out snow bunting - birds that can survive at high altitude.
In a message to his friends, she said: "He died tragically doing what he loved. When you see the snow buntings remember him."
Earlier this week, climbers Tim Hamlet and Simon Yearsley paid tribute to Mr Davidson, who was from the Edinburgh area.
Mr Hamlet said: "Simon was an absolute legend. He was an incredible guy with a real passion for the outdoors.
"I also knew Joe. It is the nature of climbing that everyone knows everyone else."
John Grieve, who has been involved with Glencoe Mountain Rescue Team for 52 years, said Mr Smith, who moved from Lancashire to Kinlochleven, had been a popular and valued member of the team.
Mr Smith's friend Oliver Millington said: "His climbing ability quickly surpassed mine, and he furiously ticked off climbs all over Scotland, making pretty much everything look horribly easy, usually with toes sticking out the end of his climbing shoes."