Public views sought on Inverness riverside arts projects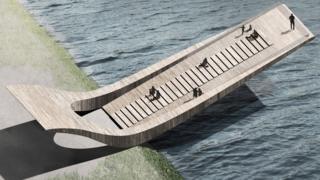 Highland Council has sought views from the public on art installations proposed for the banks of the River Ness in Inverness.
The works include The Gathering Place, a giant see-saw-like structure and also a child-friendly water feature.
River Connections, another of the proposals, includes seating areas and poetry set into stones.
The public art project forms part of the River Ness Flood Alleviation Scheme.
The multi-million pound scheme has been built to in an effort to better protect the city from flooding.
Highland Council had sought views on the art last year, but has consulted again following the addition of the child-friendly water feature and a location being given for The Gathering Place - Friars Shott near Huntly Street.