Crytek keen to learn about Scottish climbing routes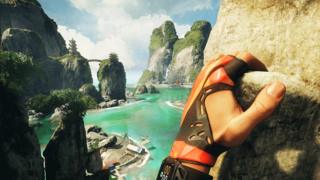 Climbing routes on Ben Nevis and in Glen Coe and Skye could be recreated for a computer game played using virtual reality headgear.
Germany-based games developer Crytek has created The Climb for use on Oculus.
It challenges players to complete solo climbs at exotic locations around the world.
Crytek said there was potential for Scottish routes to be added in the future.
A spokesman said: "We are interested in information and reference from climbers that have climbed the beautiful locations in Scotland such as Ben Nevis, Isle of Skye and Glen Coe."
Crytek researched climbing techniques and popular climbing locations for The Climb in its current version.
The spokesman said: "We are also lucky to have a number of climbing aficionados and subject matter experts in the studio and on the team.
"The game inspired our climbing enthusiasts to climb more, and in turn, they contribute to the development of the game regularly."
Crytek could also be influenced to look at Scotland because of a Scot in its team of programmers.
The spokesman said: "All proper AAA game development requires at least one Scot on board.
"We are quite fond of our animation programmer who delivers a healthy dose of Scottish pride into each build."
Crytech announcement of The Climb at the end of last year was welcomed by Scottish climbers.
Jamie Smith, of youth climbing development organisation ClimbScotland, told BBC News Scotland: "It is awesome to see climbing being developed into a standalone game."
But he added: "The heights and exposure shown in the game wouldn't be recommended for novices though.
"Best plan is for anyone wanting to take up climbing to go along to their local climbing wall for a safe introduction to a great sport."
Last year, Ben Nevis was recreated in a virtual reality game that is also played using 3D headgear.
Map-maker Ordnance Survey (OS) worked on the game that challenges players to find a hidden marker on Ben Nevis.
The game has been made for use with Oculus and Google Cardboard devices.
OS said players would also be able to explore the virtual mountain, which was created using data the mapping agency has on the real Ben Nevis.