Photographer recreates Star Wars on Cromarty Firth rigs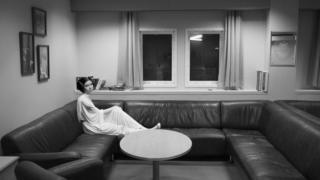 A photographer has created images that place some of Star Wars' best-loved characters on oil rigs parked up in the Cromarty Firth in the Highlands.
Glasgow-based photographer Craig Mann, whose work usually features landscapes from around the world, used Photoshop to make the pictures.
They feature characters such as Princess Leia, Darth Vader, bounty hunter Boba Fett and Ewoks.
The firth is used for anchoring rigs during winter and downtime from work.
Mr Mann, who is from Shetland and now lives in Glasgow, works on the rigs and created his Star Wars collection of photographs in his free time.