Mayor offers talks to resolve Klaksvik-Wick twinning row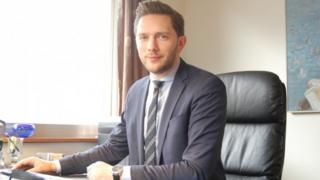 A Faroese mayor has offered to meet Highland councillors to resolve a row about twinning links between his city and Wick in Caithness.
Jógvan Skorheim said he believed a solution could be reached in the dispute which centre's on Klaksvik's traditional community whale hunt.
Caithness civic leader Gail Ross has called for an end to the link because of the Grindadráp, as it is known.
Councillors will consider severing ties at a meeting on Wednesday.
Mr Skorheim, mayor of Klaksvik municipality, said he believed the link between his city and Wick, and the Faroe Islands and Scotland, could be beneficial.
He said: "I see great unused potential in the twinship between Wick and Klaksvik.
"Our two countries have many things in common, and I believe we should use this to strengthen our relationship and co-operation in the future. Therefore I am prepared to search for a solution to this problem in our relationship.
"As Grindadráp is in deed a great part of the Faroese culture, I find it to be an obvious talking point. Therefore I suggest we arrange an official visit aiming to exchange viewing points in this matter, and I hereby invite Wick-delegates to Klaksvik for a visit."
However, Mr Skorheim added that the Faroese would not be "dictated to" on its cultural practices.
Ms Ross called for an end to the twinning link last year after local people raised concerns about the whaling hunt.
On Wednesday, Highland Council's Caithness Committee will be asked to discuss the future of the tie.
Options councillors will be asked to consider also include severing it, but also leaving the twinning status as it is.
In a report to the meeting, council officers said contact between Wick and Klaksvik had been "limited" for several years.
They said the last formal visit took place in 2001 and fishing links between the two places were no longer relevant because Wick was not now a designated fish landing port.