Two climbers from Liverpool praised by Cairngorms team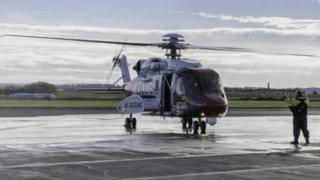 A mountain rescue team leader has praised the actions of two climbers after they were caught out by a sudden deterioration in the weather.
The female students from Liverpool had completed their climb in the Cairngorms on Wednesday and were making their way off the mountain range.
They took shelter after winds strengthened.
Cairngorm Mountain Rescue Team, who later led the duo to safety, said the women were "extremely well equipped".
The team described conditions as "appalling" and bad enough to force a coastguard helicopter search and rescue crew to abort their attempt to assist in the rescue.
'Magnificent job'
Cairngorm MRT team leader Willie Anderson said: "These young women did incredibly well in appalling conditions.
"They made some very sensible mountaineering decisions and were extremely well equipped not least with a bivvy shelter. These lightweight emergency shelters are a real lifesaver."
He added: "The team did a magnificent job finding them.
"Conditions were so bad that we couldn't see them even when we were less than a 100ft away. At one point it was looking touch and go if we'd find them so a great result."
Thirty mountain rescue team members were involved in the rescue.