Loganair reports making an increased profit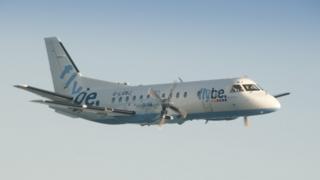 An airline criticised by the public and politicians for the reliability of its services has reported an increased profit.
Loganair, whose routes include lifeline links to island communities, increased profits to £7.2m from £5.8m in the year to 31 March 2015.
It said a 13% rise in passenger numbers had been a factor.
Customers, MSPs, MPs and pilots union Balpa have been critical of the Scottish airline's reliability.
Loganair's newly-released annual results show that turnover increased from £87.3m to £93.6m.
'Very robust'
The company, which operates in Flybe livery, said it was investing £15m in a programme of improvements and upgrades.
Loganair said £4m would be used to buy two 50-seater Saab 2000 aircraft, £1.5m on purchasing a 31-seater Dornier 328 turboprop and £3.5m on upgrading its fleet.
A new "spares hub" to better supply parts for the aircraft will be established at Glasgow Airport at a cost of £6m.
Chairman David Harrison said: "2015 was a challenging year but we have a very robust and comprehensive plan to further improve our fleet and enhance the comfort of our passengers.
"It is our number one priority and from April 2015 to April 2016 we have committed more spend than we have ever done to achieve those ambitions."
Concerns about the reliability of Loganair services were expressed in the Scottish parliament in November.
MSPs David Stewart and Tavish Scott urged the airline to improve.
'A blip'
Transport minister Derek Mackay agreed reliability was an issue, but added that safety was not a concern.
In October, Balpa called on Scottish airline to make major improvements to its repairs department.
Loganair's chief executive Stewart Adams has defended the airline's record.
He said: "Our punctuality figures for all flights departing within 15 minutes of schedule currently sits at 77% - which is still higher than the UK industry average - but we have set a target of 85% for 2016 as we deliver the benefits of our investments."
Western Isles SNP MP Angus MacNeil said he welcomed Loganair's commitment to invest in improvements, but described the airline's service in 2015 as "unacceptable".
He said: "Until customers see major consistent service improvements, it is unlikely that satisfaction will increase in the short term.
"Flight delays have a direct impact on the local economy and disrupt people's lives, not just leading to inconvenience but for some such as those working off-shore, this can be the difference between getting to work or not."
Mr McNeil added: "I hope that 2015 was a blip as Loganair have had 50 years of good service to the islands and we hope they will get back on track as soon as possible."