Islanders to receive 50% discount on air fares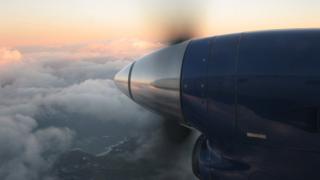 Islanders will now be eligible for a 50% discount on air fares - an increase of 10% to the previous Air Discount Scheme (ADS).
The scheme will be available for residents of Caithness and north-west Sutherland, Colonsay, Islay, Jura, Orkney, Shetland and the Western Isles.
Ministers said the increased discount is to allow the remote communities to make "lifeline connections".
The discount will apply to all tickets booked on or after 1 January.
It is also available to students who study away from home, volunteers and employees of third sector organisations.
Minister for Transport and the Islands, Derek Mackay, announced earlier in 2015 that the scheme would be extended until 2019.
He said: "I've heard a lot about the issue of high air fares in the Highlands and Islands over the past year. This increase tackles the issue directly and I hope eligible residents take full advantage of the scheme."