Probe after coastguard vehicle shot at near Nairn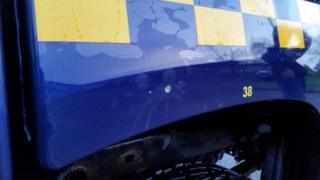 Police are investigating after a coastguard vehicle was shot at near Nairn in the Highlands.
The 4x4 vehicle was being driven along a woodland path near the River Nairn when the incident happened on Sunday.
The weapon involved was thought to be a .22 air rifle. No-one was hurt.
A post on the Nairn Coastguard Facebook page said: "Police are now involved as it is a criminal act against the emergency services. If anyone knows who did this please let the police know."