Court service to leave Inverness Castle for new centre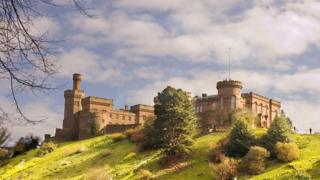 The Scottish Courts and Tribunals Service (SCTS) is to vacate Inverness Castle and set up a new justice centre in the city, it has been confirmed.
Sittings of the High Court, sheriff courts and other hearings have been held at the landmark 19th Century property for many years.
More recently there has been a campaign to have the site transformed into a visitor attraction.
The SCTS said it plans to open the new centre within three years.
The plan to build the justice centre was confirmed in the Scottish government's budget announced on Wednesday.
'Exciting opportunity'
The government has been working with SCTS, Highland Council and others to have Inverness Castle freed up as a visitor attraction, wedding venue and self-catering accommodation.
The site already draws tourists who then have to be told that the buildings function as courts of law.
Inverness Castle overlooks the River Ness and also the city centre.
SCTS chief executive Eric McQueen said: "This is an exciting opportunity to create a specialist justice centre and a stronger community justice approach by co-locating justice partners and third sector organisations in the same building.
"The centre will enable wrap-around services for offenders both as alternatives to prosecution and problem-solving approaches, and create the specialist facilities and support for victims and witnesses of domestic abuse, sexual violence and child abuse."
He added: "We realise this is also welcome news for campaigners and residents in Inverness who have ambitions for the current SCTS court building in Inverness Castle."
Tourism Minister Fergus Ewing said: "We want to see a new life for the castle that builds on its existing attraction, offering to visitors and locals alike a quality offering that encourages tourists to both visit and stay longer in the city.
"This will be a future use that takes into account the views of local people but also welcomes input from those further afield, recognising that Inverness Castle has the opportunity to benefit not just the Highlands, but Scotland as a whole."