Crytek game The Climb 'could lure more to the real thing'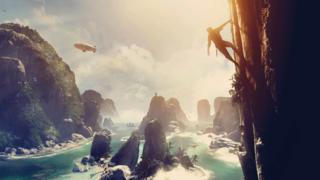 A new game played while wearing virtual reality headgear could encourage more people to take up rock climbing, it has been suggested.
German games developer Crytek has created The Climb for use on Oculus.
Jamie Smith, of youth climbing development organisation ClimbScotland, hopes it makes young people consider taking up the pursuit for real.
He said: "It is awesome to see climbing being developed into a standalone game."
The Climb challenges players to complete solo climbs at locations around the world.
Crytek's other games are mainly "shooters" such as Warface or combat-related challenges Ryse and Arena of Fate.
Mr Smith, team leader at ClimbScotland which is part of the Mountaineering Council of Scotland, said it was refreshing to see a game focused entirely on climbing.
He said: "Climbing has played a part in many mainstream video games over the last few years, such as Tomb Raider and Assassins Creed, and it's great to see it being given a more realistic approach here.
"It has a long way to go, though, before it approaches the real thrill of climbing, and we hope the launch of this game and others like it will inspire players to give it ago for real."
Mr Smith added: "The heights and exposure shown in the game wouldn't be recommend for novices though.
"Best plan is for anyone wanting to take up climbing to go along to their local climbing wall for a safe introduction to a great sport."
Lochaber-based Dave MacLeod, one of the UK's leading climbers, said there was potential for the game to draw people to the real-life experience.
Mr MacLeod, recently seen in the film Transition about top female climber Natalie Berry, said: "I must admit that I know almost nothing about video games or the gaming scene.
"I've met so many climbers with all kinds of weird and wonderful stories of what helped them discover the outdoors or climbing - I'm sure this will become one of them."
Earlier this year, Britain's tallest mountain was recreated in a virtual reality game that is also played using 3D headgear.
Map-maker Ordnance Survey (OS) worked on the game that challenges players to find a hidden marker on Ben Nevis.
The game has been made for use with Oculus and Google Cardboard devices.
OS said players would also be able to explore the virtual mountain, which was created using data the mapping agency has on the real Ben Nevis.