Pearl mussels 'extinct from several rivers'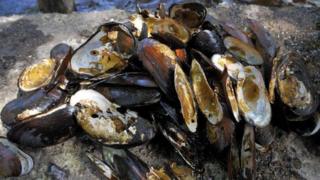 Pearl mussels may be extinct from several rivers in Scotland, Scottish Natural Heritage (SNH) has warned.
A new survey commissioned by SNH suggests 114 Scottish watercourses support populations of one of the UK's rarest freshwater molluscs.
However, the shellfish were missing from 11 rivers where they were previously found.
SNH said illegal fishing, climate change and poor water quality were among the causes of the disappearances.
Iain Sime, SNH's freshwater and wetlands advisor, said: "This is disappointing news about a species that is on the brink in parts of Scotland.
"Through the Pearls in Peril project we are working with partners including fishery trusts, SEPA and the forestry sector, to take action to improve conditions for pearl mussels in many rivers.
"But to tackle illegal pearl fishing, continued monitoring of known hot spots is crucial to at least halt the rate of decline. We would ask anyone who sees anything suspicious to report it to Police Scotland immediately."
Julius Caesar
Pearl mussels are similar in shape to common marine mussels, but can grow larger and live for up to 130 years in fast-flowing rivers.
Early in their lifecycle they live harmlessly on the gills of young salmon and trout.
Poaching, loss of habitat and pollution are among the reasons for dramatic declines in their numbers.
Scotland's Highlands and Islands are among Britain's last strongholds for the critically endangered species.
In history, Julius Caesar's admiration of pearl mussels is cited by his biographer as a motive for the first Roman invasion of Britain in 55BC.