More eagles nesting on grouse estates, say gamekeepers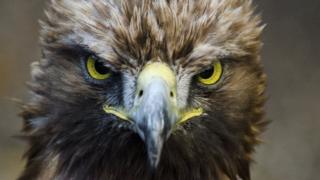 Golden eagles were found nesting in 58 areas managed for grouse shooting this year, according to the Scottish Gamekeepers Association (SGA).
The SGA's last survey for the birds of prey in the Cairngorms National Park and nearby Monadhliaths and Angus Glens in 2013 identified 55 nest sites.
About 450 breeding pairs were recorded in the latest study.
The SGA said numbers of golden eagles were recovering from declines in the 1960s caused by pesticides.
It said the management of grouse moors had helped to increase Scotland's population of the large raptors.
RSPB Scotland has challenged the SGA figures.
Population survey
Ronnie Kippen of the SGA, said: "It was important to update our previous work from 2013 and it is good to see more eagles nesting on occupied territories where our members are working every day.
"Without their local knowledge, it would not have been possible to pull the survey work together as it covers grouse areas from the Monadhliaths, the Cairngorms National Park and land which lies outwith the boundary.
"Legal predator control and heather management by gamekeepers has been proven to help provide a vital food source for eagles such as red grouse, mountain hare and rabbits."
RSPB Scotland said it was awaiting the results of a full national population survey of golden eagles in Scotland.
The charity's Duncan Orr-Ewing said: "We are not sure where the SGA have got their information, however, if correct their survey highlights only 53% occupancy of known traditional golden eagle territories in the central and eastern Highlands, far below the natural carrying capacity and continues to indicate that the species is in unfavourable conservation status in this area.
"The Scottish Natural Heritage Golden Eagle Conservation Framework 2008, the most thorough scientific evaluation of the health of our golden eagle population, suggests that, in the absence of human killing, the golden eagle population should be increasing rapidly in this area."