Western isles firefighters' dedication to job praised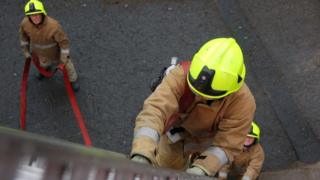 The dedication of retained firefighters on the Western Isles has been praised by inspectors in a new report.
Her Majesty's Fire Service Inspectorate said it was "impressed" by their efforts to make themselves and their vehicles available for call-outs.
It added that the geography of the isles could be challenging for crews.
Among these challenges were poor broadband connections in some areas which meant firefighters could not complete some online training packages.
The HMFSI suggested this training could be made available as a DVD instead.
In the report, inspectors said: "Overall we were impressed with the dedication showed by staff across the islands in making themselves and their appliances available for response.
"Many of the stations we visited were quite new, and all were well-maintained by their crews."