Danny Alexander receives knighthood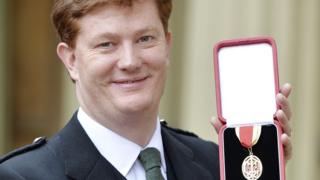 Former chief secretary to the Treasury and Highland Lib Dem MP Danny Alexander has received his knighthood.
The 43-year-old was one of four Liberal Democrats who drew up the UK coalition government agreement with the Conservatives in 2010.
He lost his Inverness, Nairn, Badenoch and Strathspey seat to the SNP's Drew Hendry in May's general election.
Sir Danny now works with the Britain Stronger in Europe campaign and schools cricket charity Chance To Shine.
He said: "It was a great honour and a wonderful ceremony and it's all rather humbling.
"It was something I didn't expect but it is a real honour to have the recognition for the work I did in the coalition government - turning the economy around and getting the country on the right track."