Records being selected for Wick nuclear archive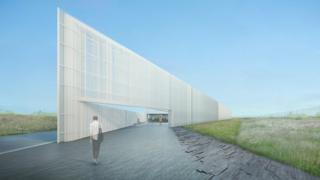 Work has begun on selecting material to be held at a £20m nuclear industry archive in Wick in Caithness.
The Nuclear Decommissioning Authority (NDA) facility being constructed at a former RAF site will hold records from UK civil nuclear complexes.
They include Dounreay in Caithness, Sellafield in Cumbria, Harwell in Oxfordshire and Winfrith in Dorset.
Records and other documents in hundreds of thousands of boxes at each of the sites are being sorted, the NDA said.
More than 70 years' worth of information and up to 30 million digital records will be stored at the archive in Wick.
Construction of the building should be completed next year.