Salomon Glen Coe Skyline added to 2016 Skyrunner World Series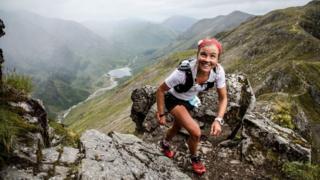 An endurance race held in Glen Coe for the first time this year will form part of an international mountain running competition next year.
The Salomon Glen Coe Skyline was one of six races in the 2015 Skyrunning UK calendar.
The other events include races in the Lake District in England and Mourne Mountains in Northern Ireland.
It has been announced that it will be part of the 2016 Skyrunner World Series, which will start in Norway.
Other events in the series will be held in China, the USA, Italy, France, Spain, Switzerland and Andorra.
The Glen Coe event will be held on 18 September.
Joe Symonds, who lives in Glasgow, won the men's race and was first overall in August's inaugural event. He finished the course in a time of seven hours, 36 minutes and 21 seconds.
Sweden's Emelie Forsberg won the women's event and was placed second overall with her time of seven hours, 44 minutes and 19 seconds.