NHS Highland reacts to MSP's criticism on locum spending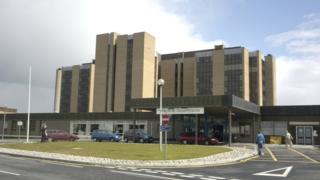 NHS Highland has reacted criticism from an MSP who suggested the health board could be putting patient safety at risk by using fewer locums.
Labour's Richard Simpson, a former GP, said he was concerned by a 31% fall in the money NHS Highland had spent employing locums at Raigmore Hospital.
Responding to the criticism, the health board said it has appointed permanent staff instead of the temporary ones.
It added that it was focused on patient safety.
Mr Simpson's criticism came during a meeting of the Scottish Parliament's public audit committee.
He drew comparisons with the Mid Staffordshire NHS Trust in England where hundreds of patients were found to have suffered unnecessarily because of too much focus being put on finances rather than patient safety.
'Closer scrutiny'
Later, NHS Highland's chief executive Elaine Mead said the health board has been able to reduce the cost of hiring locums by employing permanent staff into consultant posts.
Fifteen have been hired in a number of specialities over the past 12 months.
She said: "Locum staff are employed to fill vacancies, mainly in medical positions, when there are gaps in essential service until such time as permanent appointments have be made, or until individuals are able to return to their substantive positions after, for example, a period of maternity leave.
"In the last 12 months, Raigmore Hospital has been successful in appointing an additional 15 consultants in a number of specialities which has also reduced the cost of locum staff.
"Closer scrutiny, and maximisation of the national contract of the need for Locum staff, has further supported this reduction of cost."