Wick and Thurso lifeboats go to aid of cargo ship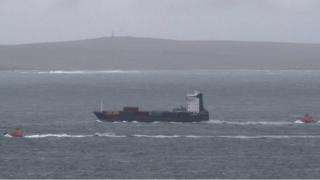 Two lifeboats were launched after a cargo ship broke down in the Pentland Firth between Caithness and Orkney.
The 328ft (100m) Leah and its crew of 10 got into difficulty a mile (1.6km) north east of Stroma at about 07:45.
The ship's anchors failed to hold it against the tide and it started drifting. Wick and Thurso lifeboat crews were alerted at about 08:00.
The Leah's crew managed to restart the engines and resume their journey to Straumsvik in Iceland.
Thurso and Wick lifeboats reached the cargo ship when it was still adrift about two miles (3km) south east of Duncansby Head.
The sea conditions were challenging with 6-9ft (2-3m) swell, a force six north-westerly wind and heavy showers.
The lifeboat crews were stood down at 10:30.