Inverness sailor Jonathan Murray honoured for rescue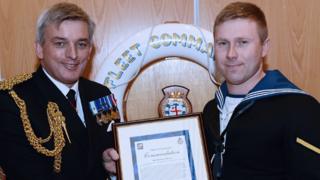 A Royal Navy sailor from Inverness has been recognised for his actions in saving a colleague in rough seas.
Able Seaman Jonathan Murray went to the aid of the other sailor after he fell from a small boat during a transfer from the frigate HMS Montrose.
Mr Murray was the coxswain of the boat and turned it quickly back to the lost seaman so he could be rescued.
He has been awarded a Royal Navy Commendation for the rescue in the Mediterranean in 2012.