Highland geopark pays tribute to Paris Unesco staff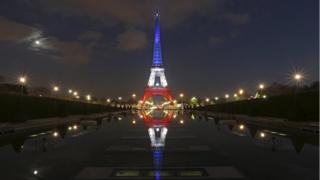 People involved in the management of the North West Highland Geopark have paid tribute to Unesco staff in Paris.
The park, which includes geology formed by material thrown out by a suspected meteorite impact 1.2 billion years ago, is to become a Unesco Global Geopark.
The decision to give the area and other European parks the status was made by Unesco in Paris four days after the attacks on 13 November.
The group running the Highland park has held a minute's silence.
Unesco Global Geopark status is along similar lines to Unesco's World Heritage Sites designation.
Ahead of the North West Highland Geopark's AGM, which was held on Saturday, chairman George Fallow said: "We have worked at becoming a Unesco Global Geopark for over 10 years now.
"As one of the first 15 European Geoparks, today should have been one for celebrations and we should be putting the champagne on ice for our AGM, but we shall have a minute's silence instead.
"We are grateful to Unesco headquarters staff in Paris for the way they have conducted business at this time."
The Highland geopark has the earliest known occurrence of one of Earth's rarest minerals, according to scientists.
The 1.2 billion-year-old reidite was found in rock samples taken from the Stac Fada Member, a large geological area of the park.
Reidite is only known to form in nature during meteorite impact events.
The discovery reinforces a theory that Stac Fada's geology was formed by material thrown out by a meteorite impact 1.2 billion years ago.
A team of Curtin University geoscientists working with the University of St Andrews made the find.
They said the reidite found in a stone called zircon was more than double the age of the previous oldest known occurrence at 450 million years.
It was found in samples taken from a layer of rock previously thought to have been created by volcanic activity but more recently linked to an ancient meteorite impact.
The geology extends to about 31 miles (50km) from Stoer, north of Lochinver, to Poolewe.