Applecross hydro project exceeds investment target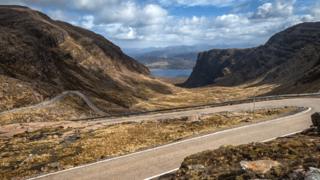 A community-run hydro electric scheme project in Applecross in Wester Ross has attracted hundreds of thousands of pounds from investors.
Apple Juice, a community benefit society set up to raise a target figure of £780,000, said residents were "stunned" to exceed that figure.
Work started on the 90kW scheme earlier this year and it could begin generating electricity next month.
It will draw water from Allt Breugach, a burn that flows into Applecross Bay.
Residents of Applecross already run the village's petrol filling station and public toilets as community ventures.
They also set up AppleNet to provide a community broadband service for the Applecross peninsula.
As well as generating electricity, profits from the new hydro scheme will be used to fund other community projects.
The bid to attract investors raised more than the target figure.
Ally MacLeod, who is one of the directors of Apple Juice, told BBC Radio Scotland: "We were aiming for as big a target as possible.
"That we have done it in less than five weeks has left us stunned."
He added: "Applecross is at the centre of a very strong network. We know a lot of people have Applecross at their heart and want it to be a living community."