Most people do not know where Caithness is, says writer Gunn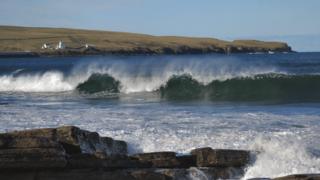 A Caithness writer believes the general public is unaware of the county's rich heritage, culture and landscape.
George Gunn, whose new book The Province of The Cat gives a "poet's-eye view" of the area, said "most people did not know where Caithness was".
Gunn, who has also written plays for stage and radio, said there were many misconceptions about the place.
He also has concerns the eventual closure of the Dounreay nuclear site would only add to this problem.
'Egypt in Far North'
Gunn said: "Most people don't know where Caithness is and if they do they see it as a place you go in order to get to Orkney.
"Others confuse topography with culture and think that because Caithness is flat that it is not, somehow, part of the Highlands. This is a misunderstanding.
"Caithness is the only place in Scotland that can truly claim to be 50% Celtic and 50% Norse in cultural mix. The very name is a compound of Celtic - cait, as in cat - and Norse - niss, or ness, meaning point as in headland.
"It is also a place rich in prehistoric human settlement, an Egypt in the Far North. But it lies unexamined."
He added: "Many artists are attracted to Caithness as a location for their art, such as painters and musicians.
"What I am about and am concerned with is Caithness as a generator and producer of art."
'Last barrel'
Gunn's plays include Atomic City which was influenced by the construction in the 1950s of the experimental nuclear power plant at Dounreay, near Thurso.
Dounreay is being dismantled and cleaned up in a multi-million pound project, though part of the site known as Buldoo is being used as a store for sealed containers of low-level radioactive waste.
Gunn said: "Sixty years of the nuclear industry has attracted a focus to Caithness which has mis-set the place in the public imagination.
"The only stories you hear about Dounreay in the news are bad stories. The result of that, historically, is that other initiatives and enterprises have been starved of investment and direction.
"As a result there is a civic passivity prevalent in the county. It is going to take a major change in both political attitude and cultural confidence to shake this off, to counter it."
He added: "A raised consciousness comes through education and a broadening of experience and here the University of the Highlands and Islands has a vital role to play.
"Something urgent and creative has to be done. Caithness cannot be left to hang when the last barrel of nuclear waste is buried at Buldoo."
Gunn was also keen to point out good things happening in the county.
He said: "There is a creative writing course running at North Highland College in Thurso and soon there will be a BA Honours in Creative Writing and a BA Honours in Film and Television Production
"The cinema is re-opening and there is the Caiithness Creative Festival, Skald, which was held last October in Thurso and will be bigger and better next year, featuring the best in new writing for all the media."
However, Gunn added: "We have to generate this from the ground as the national arts agencies are conspicuous by their absence in Caithnness."
Gunn said his new book was modelled on Orcadian poet and novelist Edwin Muir's 1935 volume of travel writing, Scottish Journey.
Scottish traditional storyteller Donald Smith encouraged Gunn to write it.
Gunn said: "This book is not a history because I am not an historian. It is not a psychological study either because I am not a psychologist. Rather it is a poet's-eye view of his own native place based on a lifetime of looking and as I approach my 60th year I thought it was about time I got it down.
"I also wanted to tell the story of the people, to see their historical experience clearly and not have the history of the north seen as an apology for earls and kings. My idea is to make what is unknown better known."