Pilot of light plane landed on Harris beach after bird strike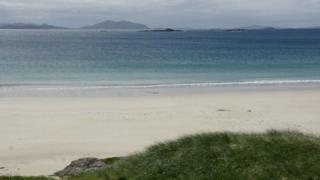 A pilot was forced to land on a beach after a seabird struck the windscreen of his light aircraft.
The bird's impact broke part of the windscreen in the incident over the Isle of Harris on 15 July.
A new Air Accident Investigation Branch report said the microlight pilot had tried to avoid birds on cliffs in Harris and the Isle of Scarp.
The pilot and his passenger were uninjured during the "precautionary landing" on a beach in Harris.
Parts of the Quik R microlight were damaged because the landing on soft sand north of Hushinish caused it to tip over.