Fishermen rescue humpback whale off Skye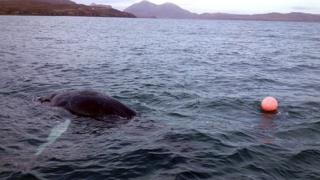 A humpback whale has been freed from a buoy and rope that were attached to lobster pots.
Fisherman John McKinnon spotted the whale from the shore at Elgol in Skye at the weekend and alerted British Divers Marine Life Rescue (BDMLR).
After raising the alarm, Mr McKinnon and one of his nephews went out in a boat to check on the animal.
The pair were able to cut the whale free. BDMLR identified it as one they had tried to rescue just weeks earlier.
BDMLR thought the whale had drowned after losing track of it due to bad weather.
After the fishermen cut the fishing gear from the whale's tail, the animal swam off before returning to the boat for a few moments before swimming away.