MSPs raise concerns about Loganair's reliability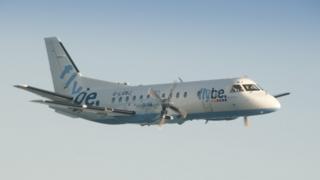 Concerns about the reliability of Loganair services have been expressed in the Scottish Parliament.
MSPs David Stewart and Tavish Scott urged the airline, whose routes include lifeline links between islands and islands with the mainland, to improve.
Transport Scotland Derek Mackay agreed reliability was an issue, but added that safety was not a concern.
Last month, Loganair said it was working to improve its engineering department and access to spare parts.
The company said the safety of its crews and passengers remained its main priority.
Recent incidents to affect Loganair flights include a flight on Wednesday from Glasgow to Sumburgh being diverted to Aberdeen due to a technical problem.
Last Friday, an Inverness-bound aircraft returned to Manchester last Friday after a warning light appeared on the plane.
Just days earlier a flight from Stornoway to Glasgow was cancelled after damage was found on a propeller during a pre-flight inspection.
Loganair, which flies under Flybe livery, said the damage was "slight".
In recent weeks the company has been criticised by passengers, pilots union Balpa and Western Isles MP Angus MacNeil.
Mr Mackay told the Scottish Parliament on Tuesday that reliability was an issue.
He said: "We express our concern around reliability, but we mustn't put into question safety because no pilot will leave the ground unless they are convinced that it's safe, and their trade union organisation has made that perfectly clear."
Shetland MSP Tavish Scott said services to and from islands were the worst he had experienced in 15 years of flying with Loganair.