Mixed breeding season for Scotland's seabirds, says RSPB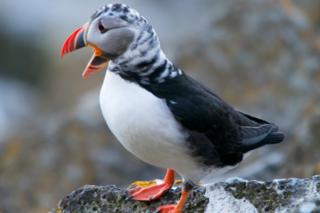 Seabirds have had mixed fortunes during this year's breeding season at RSPB Scotland's nature reserves.
The charity had expected a cold and wet summer to badly affect the birds.
However, increased numbers of guillemot were recorded in Tiree and more kittiwake nest sites were documented at Troup Head in Aberdeenshire.
More puffin burrows were also active at sites on the Firth of Forth, but numbers of the birds and other species fell in Orkney and Shetland.
As well as recording individual birds, burrows and cliff face nest sites, RSPB Scotland staff identified a puffin with a condition called leucism, which causes a loss of pigment in feathers leaving them pale or white.
The puffin was spotted on the Shiant Isles, which lie four miles (6km) off the coast of Lewis. The small islands are home to 10% of the UK's puffin population.
RSPB Scotland said while the breeding season was not as bad as feared, declines in the Northern Isles was a cause for concern.
It said the Scottish government could help to give the seabirds and their sources of food greater protection by enforcing new marine protected areas.
Phil Taylor, RSPB Scotland marine policy officer, said: "Scotland has already designated more marine protected areas than any other part of the British Isles, and RSPB Scotland has worked hard to make sure these include protection for black guillemots and sandeels.
"But clearly, though our seabirds can cope with wet summers, they struggle without healthy seas to feed in.
"The Scottish government could help solve this as they have already identified 14 potential special protection areas, which are internationally important parts of our sea, but are dragging their feet when it comes to designating them."
Mr Taylor added: "For most of Scotland, 2015 has been a welcome reprieve from years of chronic seabird decline. However, we're not out of the woods yet.
"Despite this great news we've still lost two thirds of our kittiwakes, Arctic skua and Arctic terns since 2000. The best time to take action was twenty years ago, the second best time is now."
In Tiree, guillemot numbers grew from 2,068 in 2014 to 2,634 individuals this year, according to RSPB Scotland.
The number of kittiwake nests at Troup Head increased from 395 to 414 during the same time and as many as 460 chicks fledged.
At Fidra in the Firth of Forth, there were 1,026 active puffin burrows, up from about 800 in 2009.
But at Marwick Head in Orkney, 570 kittiwake pairs were recorded this year - a decline of 90% since 1999 when the site used to hold 5,573 pairs.
Guillemot numbers at Marwick Head also dropped from 34,679 to 8,645 over the same period.
The charity said 668 puffins were observed at Sumburgh Head in Shetland, but only around a third of nests there fledged any chicks, suggesting some 400 nests failed.
Kittiwakes were scarce at North Hill in Orkney and of the 300 Arctic terns present on Mousa in Shetland only 20 pairs attempted to breed, and none managed to raise any chicks.
A Scottish Government spokeswoman said: "In 2009, Scottish ministers classified extensions to 31 breeding colony Special Protection Areas (SPAs) which provide areas for essential activities such as feeding, loafing, and preening.
"We are presently considering the scientific cases for 14 draft SPAs. A pre-consultation phase has highlighted a number of scientific issues with the proposals, and we are working with Scottish Natural Heritage and the Joint Nature Conservation Committee to resolve these.
"Once resolved Scottish ministers will determine if there should be a public consultation."