Charles Kennedy remembered at London memorial service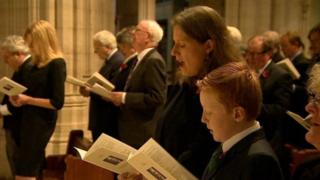 Political colleagues and family and friends of Charles Kennedy have attended a memorial service in London for the former Liberal Democrat leader.
The 55-year-old, who had led the party for more than six years and was a former MP for Ross, Skye and Lochaber, died in June.
His ex-wife Sarah Gurling and their son Donald were among those who gathered at St George's Cathedral in Southwark
Mr Kennedy was remembered as a man of "exceptional character and talent".
Prime Minister David Cameron and Commons speaker John Bercow led guests from the worlds of politics and broadcasting.
Senior MPs including current Lib Dem leader Tim Farron and Mr Kennedy's predecessor Nick Clegg were at the service along with journalists Jim Naughtie and Ian Hislop.
Mr Kennedy was nicknamed "chat show Charlie" because of his popularity on TV and radio.
He died at his home in Fort William after suffering a major haemorrhage as a result of his long battle with alcoholism.
Lib Dem peer Lord Jim Wallace praised Mr Kennedy's "great courage" in speaking out against the Iraq War.
The former Lib Dem leader was also a staunch pro-European and, looking ahead to the EU referendum, Lord Wallace said: "The In campaign will certainly be the poorer without him".
Broadcaster Mr Naughtie remembered Mr Kennedy's frequent appearances on BBC Radio 4's flagship Today programme, describing him as a "natural" broadcaster even though "sometimes he found himself a little short of a good briefing".
He said Mr Kennedy excelled at "the art of being funny and serious".
Mr Kennedy's popularity across party divides at Westminster was indicated by the presence of leading Tories including Ken Clarke and Michael Gove, while senior Labour figures at the service included Alastair Campbell - a close friend of the ex-Lib Dem leader, despite their political differences over Iraq.
Mr Kennedy's friend and former brother-in-law James Gurling talked about his love of music - ranging from David Bowie to ex-Spice Girl Emma Bunton.
An excerpt of Bowie's Heroes was played, while the Roman Catholic cathedral's organist played a medley of Mr Kennedy's favourite Frank Sinatra songs Fly Me To The Moon and My Way at the end of the service.