Rocket range takes in drone found in North Uist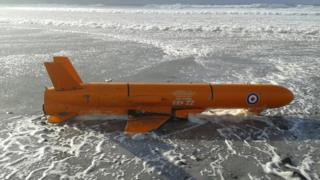 A military target drone that was found on an island beach has been handed over to the operators of a Ministry of Defence rocket testing range.
The coastguard in Benbecula was alerted to the discovery at Baleshare on North Uist on Thursday morning after a member of the public came across the drone.
It has since been picked up by staff at the rocket range in South Uist, the Maritime and Coastguard Agency said.
The drone, a Mirach 100/5, is for training in the use of weapon systems.
Military hardware does occasionally wash up on shorelines up and down the Western Isles. Some of the items are linked to activity at a rocket range in South Uist.
The range, which is run by a contractor on behalf of the MoD, is used for the testing of weapons such as the Rapier missile system. The site has a radar station on St Kilda.
The discovery of the target drone also came just days after the finish of Nato's Exercise Joint Warrior.
Staged in April and October in and around Scotland, the UK-led training involves North American and European armies, navies and air forces.
The latest exercise also involved 30 warships, 60 aircraft and about 6,300 personnel from 12 nations.
The Maritime and Coastguard Agency said anyone finding suspected military equipment or ordnance not to touch it and call 999.