Trust wins money for Suilven paths restoration work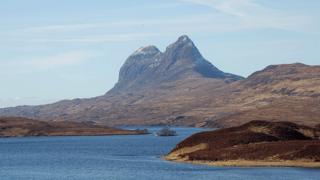 A bid to repair paths on one of Scotland's most distinctive hills has won funding from a European outdoor conservation awards scheme.
The John Muir Trust has secured £18,000 in prize money to cover the cost of the work on Suilven in Assynt.
The project was the only UK entry to the alpine category of the European Outdoor Conservation Association contest.
It faced competition from nominees in Italy, Spain, France and Rwanda.
The trust still needs to raise a further £50,000 towards the cost of the work.
Reaching a height of 2,398ft (731m), Suilven is one of a number Scottish mountains known as Grahams. The peaks are smaller than Munros.
Suilven has been widely celebrated in poetry, music and song by the late poet Norman McCaig, Gaelic rock band Runrig and classical music composer Giles Lamb.