'Fish fight' sculpture wins chainsaw contest Carve Carr-Bridge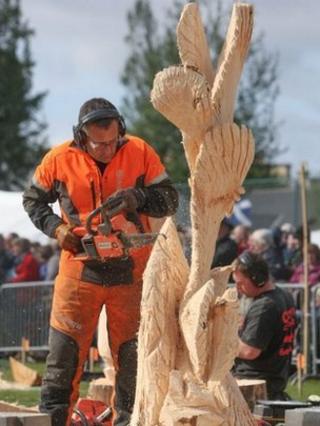 Crowds have attended the Carve Carr-Bridge Scottish Open Chainsaw Carving Championships.
Carvers from Scotland, England, Ireland as well as Poland, Czech Republic, Slovakia, Holland, Canada and the US entered this year's competition.
They use chainsaws to carve logs into the shapes of animals and people.
The winner was Pete Bowsher with his piece "Fish Fight" depicting a struggle between an eagle and a fish.
The competition is now in its 13th year and is held in Carrbridge in the Cairngorms National Park.
Mr Bowsher, based in Moffat, has picked up the coveted Claymore Trophy a total of eight times.
He said: "I'm delighted to win again but I think the others are getting a bid fed up with me!
"But I'll keep coming back, it's such a fantastic event - I couldn't miss it - it's a really well organised competition and we're always made to feel so welcome here in Carrbridge."