Kyleakin man jailed for making hoax call about yacht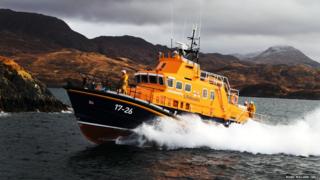 A man whose hoax call to the coastguard led to a lifeboat crew spending almost three hours on a needless search in bad weather has been jailed.
Alasdair Munro, 55, of Kyleakin, made his call on 30 October 2013 and said a yacht was in trouble on Loch Hourn.
He was found guilty and jailed for four months following a two-day trial at Portree Sheriff Court in Skye.
Richard Smith, the RNLI's spokesman in Scotland, said he hoped the sentence would serve as a warning to others.
Mr Smith said: "Our volunteer crew at Mallaig were sent out on what was effectively a wild goose chase.
"Our resources were spent on a malicious call and, if a real distress call had been given elsewhere, then we would have had difficulty in attending it and the life of someone in genuine distress could have been at risk."
Jackie Mackenzie, of the Maritime and Coastguard Agency, said: "The important thing is that the hoax caller was found and punished.
"Hoax calls can, and in this case did, tie up a valuable maritime search and rescue resource.
"Those who risk their own safety to rescue others should also not be put at needless risk in responding to hoax distress calls."